News from Lebanon
Archi. Edward Daher New Archbishop of Tripoli in Lebanon
9 7 2013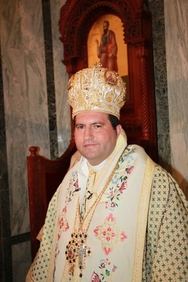 Archimandrite Edward Daher
New Melkite Greek Catholic Archbishop of Tripoli in Lebanon


On 9 July 2013, Pope Francis ratified the election by the Holy Synod of the Melkite Greek Catholic Church of V. Rev. Archimandrite Edward Daher as Melkite Greek Catholic Archbishop of Tripoli in Lebanon to succeed the late Mgr. George Riashi of blessed memory.

Born in Qaa (Lebanon) on 23 April 1973, Archimandrite Edward Daher took his final vows on 28 August 1994 in the Basilian Soarite Order. He has a degree in philosophy and theology from the Saint Paul Institute in Harissa (Lebanon) and in canon law from Sagesse University (Beirut, Lebanon.) He was ordained priest in the Basilian Soarite Order on 8 May 1999. With the Order, he served several parishes in many regions of Lebanon, such as Kfarshima, Zahleh and Metn, whilst being given several responsible roles within the Order. In 2007, he was elected third assistant to the Order's Council.

In 2004 he was designated Superior of St. Anthony's Monastery, Karkafeh near Kfarshima (Lebanon) and in 2010 Superior of the Monastery of Saint Elijah (Mar Elias al-Tuwaq) in Zahleh (Beqaa, Lebanon.)

Clerk to the patriarchal appellate court (of first instance) from 2001, in 2010 he was named as President of the Chamber in the same court.

The dates for the ceremony of his episcopal consecration and enthronement will be announced later.